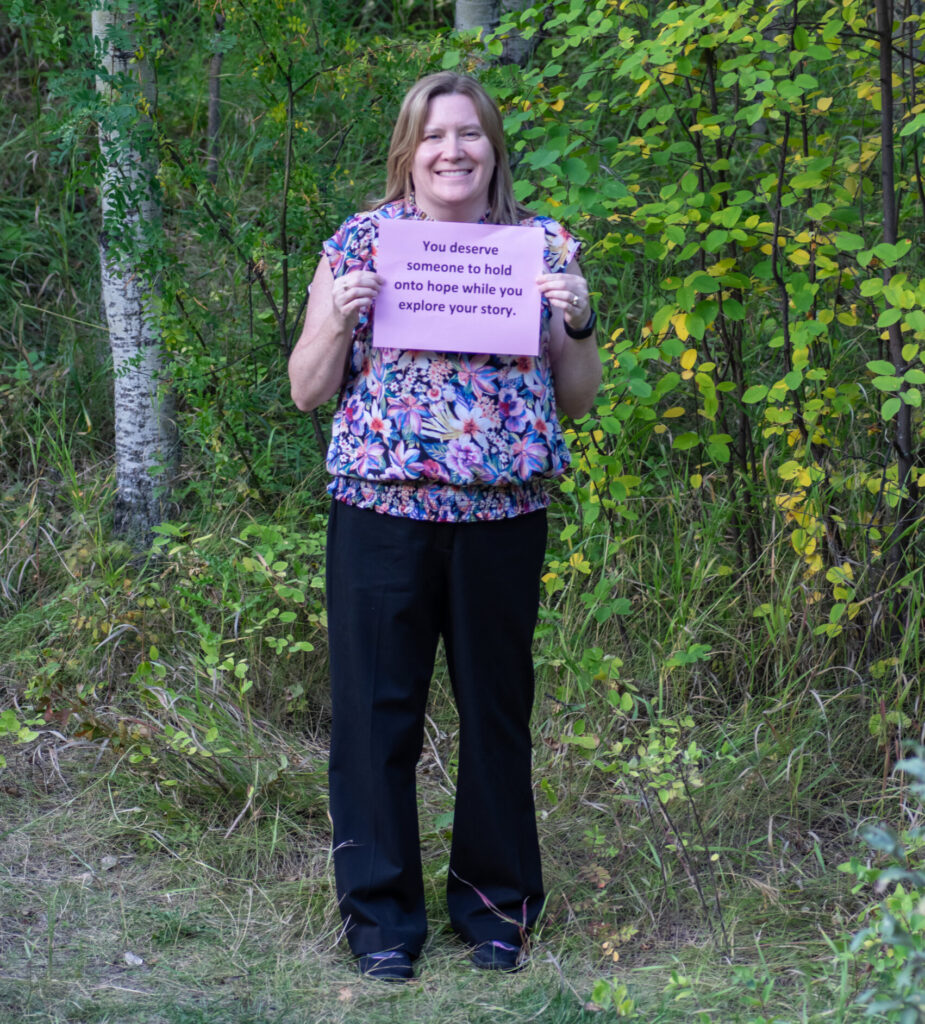 About Kristy
Kristy holds a Bachelors degree in Social Work (with honours) and a Masters of Social Work (Clinical).
I believe that everyone deserves safety, trust, and hope. These build the foundation for our belief in ourselves, connection with others, and help us to live a meaningful life. Stress, transitions, and unexpected challenges can uproot us, and when that happens it's my privilege to create a safe, grounding connection to help you find your way back to yourself and others.
Through a combination of trauma-informed and evidence-based counselling interventions, I provide a soft place to land, where you are seen, heard, and safe to speak your truth on the road to healing.
With you as the expert on your own experience, I'll provide support, as well as new skills and perspectives, as we work together to navigate your journey toward wisdom and renewed confidence. I'm honoured to be fully present for you in the beautiful, hard work of navigating life's challenges to become stronger, calmer and to bring your best self to the world. I look forward to meeting you, hearing your story, and beginning our journey together.
I am located in Calgary, Alberta, and am licensed to practice in Alberta, British Columbia, and Ontario. I am listed on Psychology Today, EMDR Canada, EMDR International, and ART International.
I am available for private, secure video sessions.
Books
Kristy has authored two trauma-informed books and provides workshops, presentations, training, and consultation as requested. To visit Kristy's author webpage and to view additional therapeutic parenting resources please click here.
Peer-Reviewed Articles
Kristy has been a coauthor on the following peer-reviewed literature and/or published abstracts at the following conferences:
Online Articles
Kristy has written the following articles:
Kristy in the Media
Kristy has been quoted in the following media articles:
Kristy is listed on Informed Opinions and can be contacted for media inquiries at [email protected].
Contact Kristy
Email: [email protected]
Phone: 403-880-3546
Land Acknowledgement: I would like to acknowledge that I am a settler on the ancestral indigenous lands of Southern Alberta which include the Treaty 7 region and Metis Region 3. As a colonizer on this land, I am grateful to all those who share their wisdom to aid my journey towards continual learning and unlearning as I work, live, and play on this land.